Experience The Total Solar Eclipse in Columbia, South Carolina
THE LONGEST TOTAL ECLIPSE ON THE EAST COAST, AT 2 MIN. 36 SEC.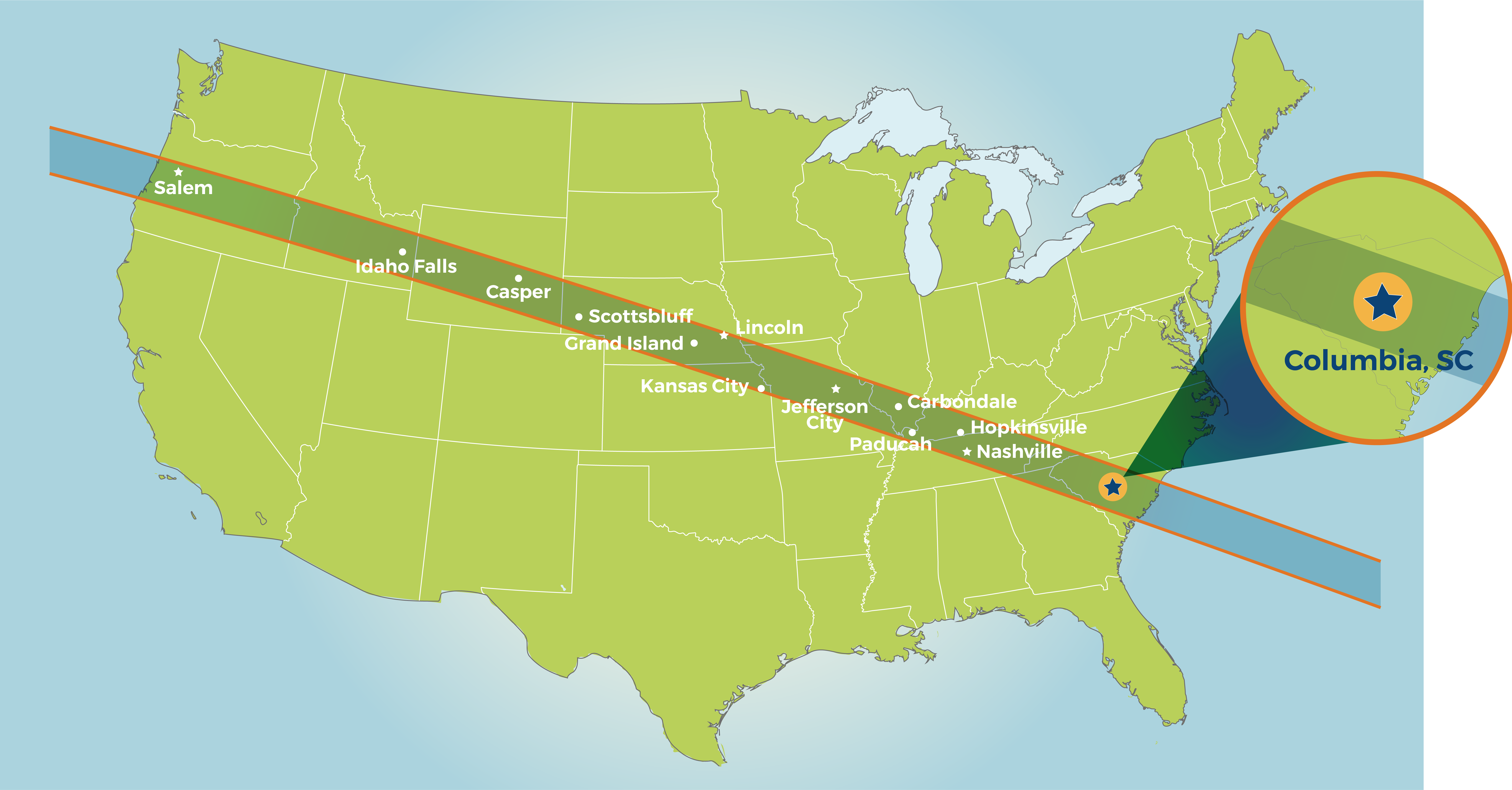 Columbia, South Carolina
The Total Eclipse Capital of the East Coast
Columbia, S.C., has been widely acknowledged by major media outlets such as USA Today, Forbes and the Washington Post newspaper as one of the top cities nationwide for viewing the upcoming total solar eclipse on August 21, 2017.
At 2:41 p.m. on Monday, August 21, 2017, visitors and residents who have gathered in the greater Columbia, S.C., area will experience the longest period of 100% total solar eclipse for a metro area on the entire East Coast of the United States: 2 minutes and 36 seconds of totality, compared with the national maximum of 2 minutes and 41 seconds that will be visible in smaller communities in the Central United States.
NASA estimates that South Carolina could see an influx of up to 1 million visitors to witness nature's grandest spectacle.
In response, the Columbia, S.C., region's best and brightest event planners, attractions, cultural institutions, sports venues, hotels, restaurants, shops and other entities are planning eclipse events all weekend leading up to and during the Great American Eclipse of 2017.
Columbia, S.C., is America's third largest city on the center line of the path of totality, with the longest duration of 100% total solar eclipse on the East Coast.
This is a big deal.
"Close" is Not Close Enough
Most of America will experience a partial eclipse, which does not produce the spectacular effects that only occur with 100% total eclipse.
During a total solar eclipse, the moon appears to completely cover the sun, blocking its light, simulating darkness in the middle of the afternoon, and causing rare, awe-inspiring light effects to arc through the sky from around the corona of the sun. (The corona is only visible during a total solar eclipse; it is not something that can ever be seen unless one is within the path of totality during a TSE.) A litany of bizarre and delightful natural phenomena occur, drawing "eclipse chasers" who will travel from all over the world to experience the "mind-blowing" occurrence.
Duration is key. It is a phenomenal piece of luck that the greater Columbia, S.C., area will see the longest totality for a metro area on the East Coast, at a range of 2 minutes and 30 seconds to 2 minutes and 36 seconds.
Experts estimate that this total solar eclipse will be the most watched eclipse in the history of the world as we know it. Only those in the "path of totality" will have the extremely rare, awe-inspiring experience of witnessing a 100% total eclipse.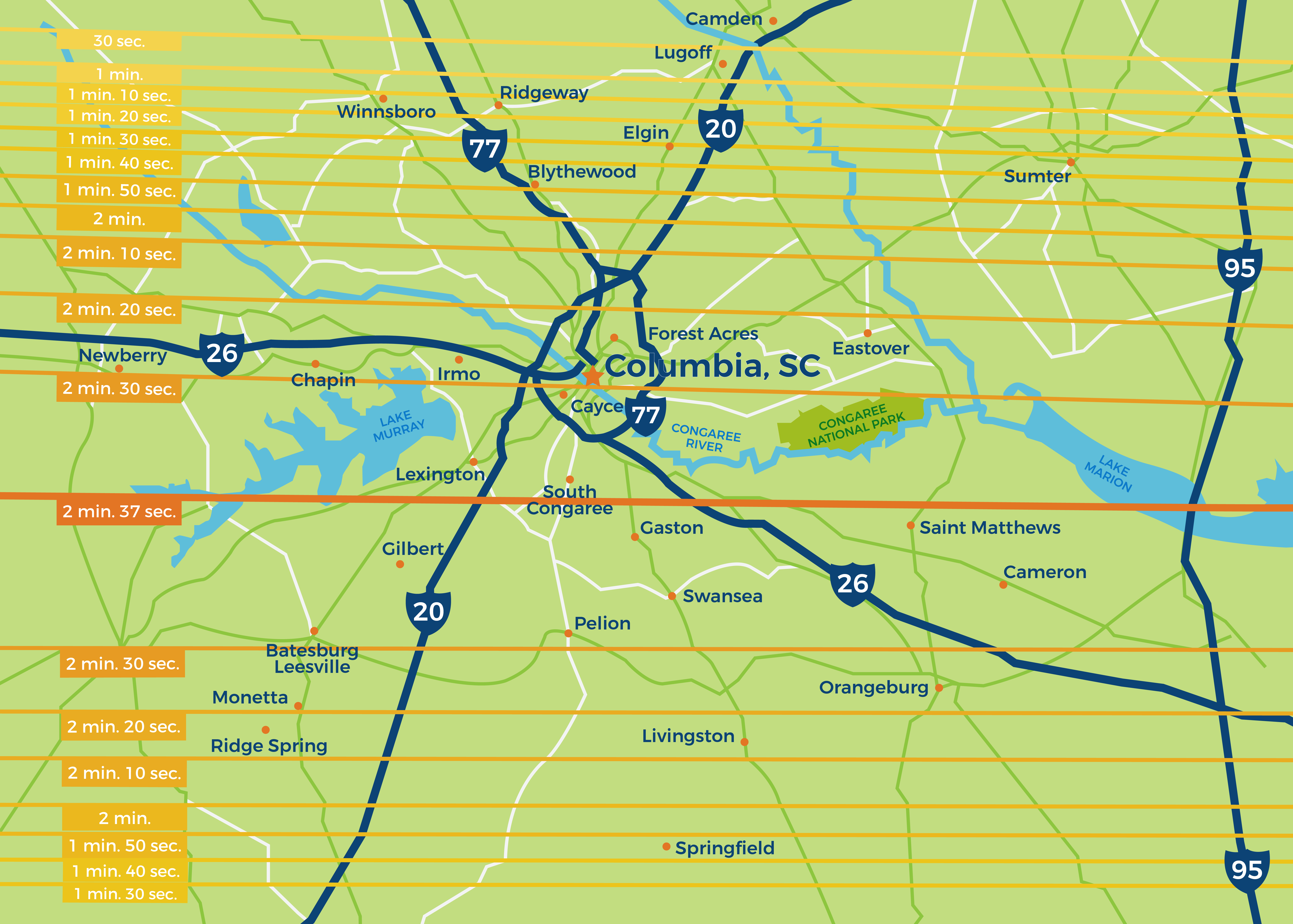 The city center of Columbia, S.C., will experience 2 minutes and 30 seconds of darkness, while areas within 10-15 minutes of the S.C. State House can experience up to 2 minutes and 36 seconds of darkness.  Two of our area's most beautiful natural attractions, Lake Murray and Congaree National Park, are within or adjacent to the line of greatest totality.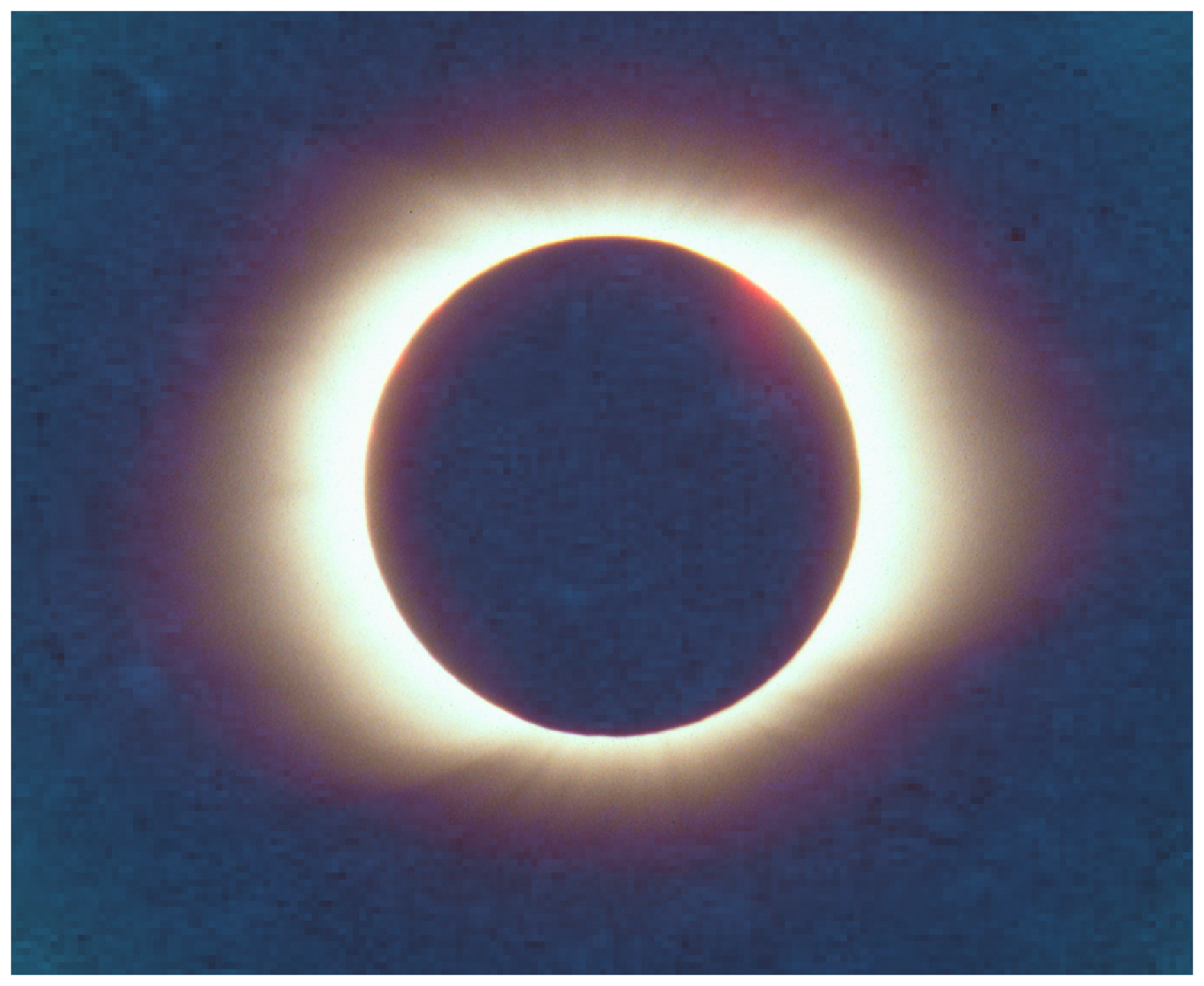 WHAT IS A TOTAL SOLAR ECLIPSE?
A solar eclipse occurs when the moon passes between Earth and the sun, causing the moon to temporarily cast its shadow on Earth. During a *total* solar eclipse, which is very rare, the moon aligns perfectly with the sun, causing darkness to fall, creating unbelievable effects in the sky. On August 21, 2017, those of us in Columbia, S.C., will be in the sweetest spot on the East Coast to witness this rare and incredible event.
Imagine the sudden fall of  darkness in the middle of the day. A 360-degree sunset around the entire horizon. The temperature drops 5-15 degrees. Bright planets and stars appear. Nocturnal animals stir. Starting at roughly 1:13 p.m.here in Columbia, S.C., a partial eclipse will begin to take bigger and bigger "bites" out of the sun, progressing toward totality. Then, at 2:41 p.m., during our 2 minutes and 36 seconds of total eclipse, darkness will fall quite rapidly, and a rare and splendid light show will become visible around the corona of the sun. By 4:06 p.m., full daylight will have returned. What else can you expect during a total solar eclipse? Learn more from NASA.
Since it is crucial to use special, protective eyewear while looking at the sun during all portions of the partial eclipse before and after totality – in fact, you can't even see the partial eclipse without special safety lenses – we are offering bulk discounts and sponsorship opportunities for special eclipse viewing glasses. 
A Long Weekend of Eclipse Events in the New Southern Hot Spot
Travelers and tour groups from Europe have already made their plans and booked hotels, motorcoach tours and travel packages to witness the eclipse in Columbia, South Carolina. Plan your trip now! (Seriously. You really should just go ahead and book your lodging at the very least. You can thank us later.)
Visitors to the greater Columbia, South Carolina area — known widely as "The New Southern Hot Spot" — enjoy a diverse community and vibrant cultural scene with free festivals, farmer's markets and public art events; rich historic offerings ranging from ancient Native American culture to the Revolutionary War to the Civil War to the Civil Rights Era and beyond; lush, natural surroundings studded by rivers and lakes; close proximity to the old growth forests of Congaree National Park; family-friendly attractions like Riverbanks Zoo and EdVenture; a cutting-edge arts and entertainment scene; and our remarkably cool hospitality districts laden with affordable hotels, farm-to-table restaurants, independently owned shops and antique stores, and more. Learn more about all of the cool things to do in the greater Columbia, S.C., region at the Experience Columbia SC website.
Ready to plan your Total Eclipse Weekend, with cool events and happenings from Aug. 18-21, 2017? Our Events page is where it's at.
PLAN YOUR WEEKEND
Join us in Columbia, S.C., for a long weekend of eclipse-related activities in the Total Eclipse Capital of the East Coast! As we get closer to the big event, local attractions, cultural organizations, restaurants, hotels, shops and businesses will post their eclipse events here on this site.
Highlights include a midday Columbia Fireflies baseball game during the eclipse at the brand new, award-winning Spirit Communications Park at BullStreet; a weekend of astronomy activities and exhibits at the new South Carolina State Museum observatory, planetarium and 4-D theater with a special exhibition featuring S.C. astronaut Charles Duke and a big public viewing event on Monday; a Sunday matinee of space-themed works by the S.C. Philharmonic at the Koger Center; the Solar 17 viewing event on the Lake Murray Dam; a major public art installation; historical walking tours through the 12,000-Year History Park in Cayce (just across the Congaree River); an Eclipse Drive-In Movie night and "Sunblock" eclipse viewing festival at the Columbia Motor Speedway in Cayce; and special happenings throughout the region; and more.
Encourage your favorite places to participate in nature's grandest spectacle, and tune in for more details as our region's plans begin to form!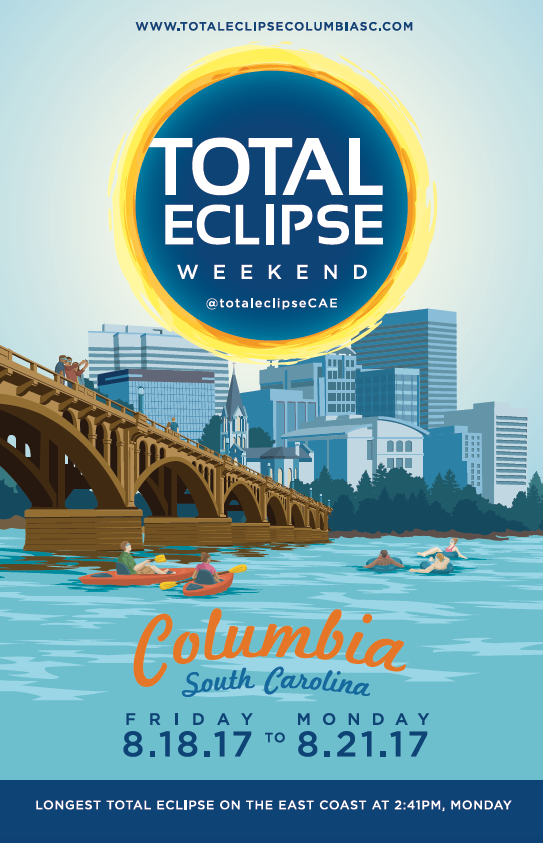 America's First Transcontinental Total Solar Eclipse Since 1918
This will be the first total solar eclipse to make a path all the way across the U.S. in 99 years. The last total solar eclipse to pass over a portion of the continental U.S. was in February 1979, visible only from 5 states in the Northwest. The 1918 total solar eclipse was not visible from Columbia, S.C., and the year 2078 is the next time a total solar eclipse will be visible in the capital city. It is not an understatement to say that for all but the most dedicated "eclipse chasers" who travel the world to witness these celestial rarities, this truly is a once-in-a-lifetime experience.
Eclipse experts have named Columbia, S.C., as a top viewing destination. The Great American Eclipse website has excellent detailed maps and information for those who'd like to dig deeper, and sites such as National Eclipse have extensive information as well. 12-time total solar eclipse veteran Dan McGlaun runs the Eclipse 2017 site, another solid resource for those seeking more information.

Want to learn more about the total solar eclipse?
Curious about what it takes to plan a community-wide eclipse viewing? Subject matter expert Kate Russo created this handy Community Eclipse Planning guide after experiencing multiple total solar eclipses around the world — and witnessing how cities successfully accommodated the influx of visitors for the big event.
A Coalition of Regional Tourism and Cultural Organizations
The Total Eclipse Weekend Columbia, S.C., initiative is spearheaded by a coalition of regional entities whose mission is to create an incredible, weekend-long experience for those witnessing the eclipse in the region. This group includes Experience Columbia SC; the City of Columbia; Capital City/Lake Murray Country visitors' bureau; the South Carolina State Museum (S.C.'s Solar Eclipse Headquarters for education and training); the Columbia Fireflies Minor League Baseball team; and One Columbia for Arts & History.
Visitors and residents in the greater Columbia, S.C., region will enjoy long weekend of eclipse-related activities hosted by area attractions, arts and culture organizations, restaurants, hotels, retailers, community groups and more. As events are added, they will be viewable at www.totaleclipsecolumbiasc.com.
Become a sponsor to help us spread the word nationally and internationally that Columbia, S.C., is the place to be during the "Great American Eclipse" of 2017!